I decided to be adventurous and head to the island of Boracay for a few days after a fulfilling and fun week in Bali. I met with a friend who resides in South Korea as well, and the memo for the trip was "Rest, Relaxation and Cocktails on the Beach." I was back at work the following week so doing very little was high up on my list. However, that's not how things quite turned out. Gripped by spontaneity, I went island hopping, parasailing, helmet diving, jet skiing, partied with locals and expats, and I would like to add that I did get my fair share of R&R so in essence, it was actually perfect.
On my last full day on the island I decided to kick back at the beach- that was the whole point of my trip after all. After spending a few hours on Boracay's White Beach (Which I've dubbed 'The Golden Child' of Boracay) I was somewhat left underwhelmed. Every website I visited prior to my trip spoke highly of its beauty and they wouldn't dare let you forget it. However in my opinion, Puka Beach is hands down the most beautiful beach I've had the opportunity to experience. It is far removed from the hustle and bustle of the island, relatively untouched with crystal clear water and the whitest sand I've had the pleasure of resting my feet on. I spent the entire day soaking up the sun, drifting in and out of slumber, reading a few pages of Americanah and drinking one, too many Strawberry Banana smoothies from the Tiki bar that played reggae music throughout the day, solidifying that I was indeed experiencing euphoria.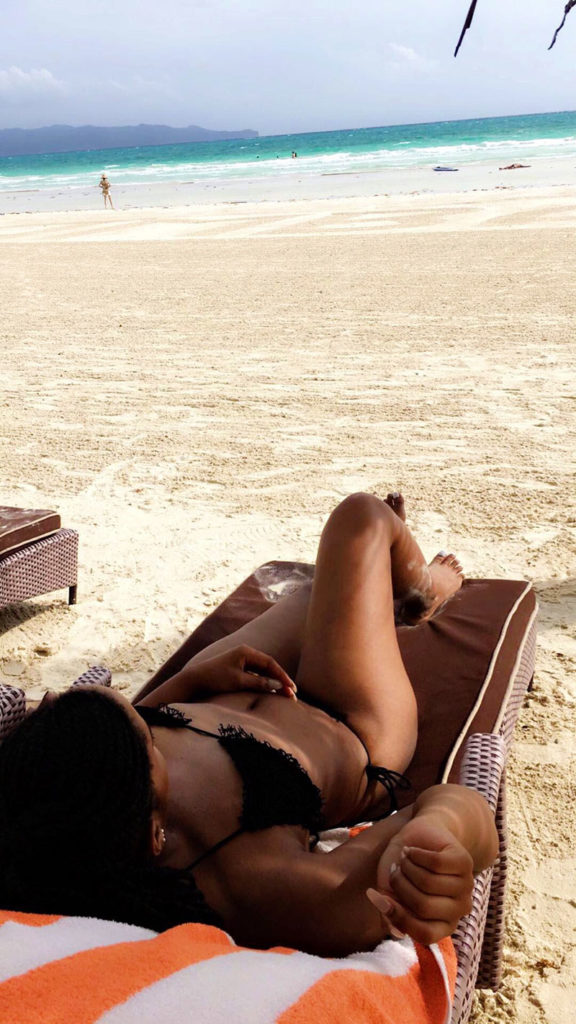 I had an interesting conversation with two young Colombians about our respective countries and the ridiculous stereotypes that follow its natives wherever they go, the state of our political parties back home, institutionalized racism and of course… Pablo Escobar. In between conversing and gazing at the blue ocean with a San Miguel in hand this time,  I couldn't help but feel proud and grateful that a thought that constantly lingered in my mind was now happening. I often thought about getting away many times, finding myself in a remote island under palm trees and soaking up as much vitamin D as my melanin could take. It made me realize just how far I've come. My life has changed drastically in the past year and it also got me thinking about the importance of acknowledging your achievements. Its a concept I have battled with for a very long time and to be honest, I have still not won the war. No one is more hard on me than I am, I am my biggest critic.
I am ambitious and extremely hard on myself. I never feel as though my accomplishments are enough because there is still so much I want to achieve. After achieving a milestone in my life my immediate thought thereafter is "Okay, whats next?" I do not have the time to bask in glory and dwell on triumphs.
Although some may see it as humility, the feeling of inadequacy does you no good. Its extremely important to not only know where you are heading but just how far you've come and all the milestones you have achieved along your journey- they are just as important as reaching your destination. It is also easy to fall in the trap of comparison and subconsciously align your life's work alongside your peers and play a game of "Spot the Difference."
Instead of constantly looking around you to see what everyone else is doing, keep your head down and grind. Quit being so hard on yourself and celebrate your achievements, big or small. Give daps where daps is due. Small wins are still wins.